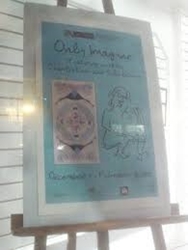 The new exhibit at the Arts Place at 107 West Washington Street in Hartford City encourages guests to "Imagine." The exhibit entitled "Only Imagine" will be on display at the Arts Place until February 18, and features the artwork of local artist Charles Knox, as well as six pieces of art by famed Beatle John Lennon. The Lennon pieces are on loan from local resident David Hodges.
Charles Knox grew up in Hartford City and now lives in Muncie. He uses pen and pencil to create his works of art many of which feature butterflies and moths. Knox's artworks are for sale and a portion of the proceeds will go to the Arts Place.
John Lennon is probably the most controversial of the "Fab Four." People were shocked when he once jokingly quipped of the band's popularity, that "The Beatles were bigger than Jesus." Lennon was strongly opposed to the war in Vietnam. He and his wife Yoko Ono held a famous "Bed-in for Peace" which is depicted in one of the sketches on display. Shortly after this demonstration, he released the single "Give Peace A Chance," which became an Anti-War anthem. Best known as a musician, and songwriter, Lennon was also an artist and writer who began writing and drawing at an early age. In December of 1980, Lennon autographed a copy of his "Double Fantasy" album for fan Mark David Chapman. Later that evening, Chapman would murder Lennon as he returned home from a recording session, shooting him at close range.
Source: Scott Shaffer, News-Times Feature Writer/hartfordcitynewstimes.com