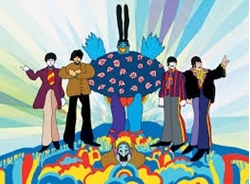 A Columbia grad student, new to the city, lost his lease. So he organized the perfect send-off.
On an otherwise quiet pandemic Sunday, the unmistakable songs of the Beatles started blaring from the roof of a building on the Upper West Side. The band was belting out faithful renditions from the 1969 rooftop concert in London — "Get Back," "Don't Let Me Down," "I've Got a Feeling" — and people stepped out onto their balconies and fire escapes to listen.
When the band finished, and Upper West Siders shut their windows and headed back into their apartments, a 28-year-old Columbia University physics grad student named Ben Markham stood on the roof savoring the moment with a joint and beer.
"I was worried the cops might come," he said. "If John was watching, I hope he liked it."
Source: Alex Vadukul/nytimes.com