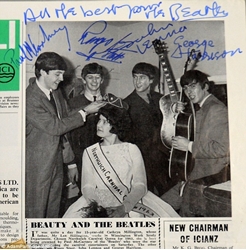 An old newspaper that John Lennon used to forge the autographs of the rest of the Beatles is now tipped to sell for £1,500. The singer/songwriter, who was known as the joker of the band, faked the signatures of Paul McCartney, George Harrison and Ringo Starr on a photograph of the fledgling group. The image showed the young Fab Four crowning the 15-year-old Carnival Queen for the town of Northwich, Cheshire, in 1963. It appeared on the front page of Alkali News - an in-house magazine for chemical giant ICI and the teenager in the photo was the daughter of an ICI employee.
The snap was taken by the late photographer Les Goode who later sent a copy of Alkali News to the Beatles in the hope they would sign it. It was returned with the message 'All the best from the Beatles,' followed by the apparent autographs of the 'Fab Four' all in the same blue pen. It is thought Mr Goode believed the signatures were all genuine. But when his widow recently took the newspaper to an auctioneers to sell it was realised they were indeed forgeries.
The signature for McCartney resembles nothing like his autograph but Lennon's attempt to copy the impressions of Harrison and Starr were described as 'rather good'. But because they were faked by Lennon they are still worth about the same as if all four had signed them.
By: Joseph Curtis
Source: The Daily Mail