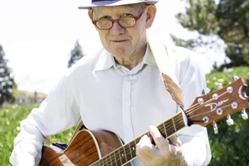 Dean Ford, singer, songwriter and guitarist. Born 5 September 1946, in Airdrie. Died of complications from Parkinson's disease 31 December 2018, in Los Angeles, aged 72.
Before the Bay City Rollers, before Simple Minds, before Franz Ferdinand, there was Marmalade, fronted by a "little guy with big ears" from Airdrie. And it was Marmalade who made history as the first Scottish group to have a UK No1.
Their singer was born ­Thomas McAleese, but found fame and fortune in the 1960s and 1970s as Dean Ford, helping steer Marmalade's course from Glasgow's Barrowlands to the top of the charts with a cover of the Beatles album track Ob-La-Di, Ob-La-Da – Paul McCartney was a big fan of the group.
Source: scotsman.com