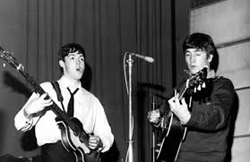 Sir Paul McCartney has admitted he found his late Beatles bandmate John Lennon's song 'How Do You Sleep?' "hurtful".
The track from Lennon's 1971 solo album, 'Imagine', was penned after McCartney successfully dissolved the Beatles partnership in a High Court lawsuit, and after the iconic Liverpool group's frontman slammed his bandmates - Macca, Sir Ringo Starr and the late George Harrison - in an interview with Rolling Stone magazine in 1970, the year they split.
McCartney and his then-wife Linda reacted by having ads published mocking Lennon and his now-widow Yoko Ono, which saw them dressed up as clowns.
'How Do You Sleep?' was penned in response to McCartney's solo LP 'Ram', which featured the track 'Too Many People', which he later admitted intended to slam Lennon.
Source: music-news.com