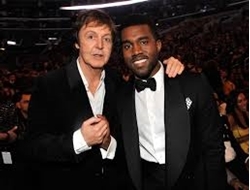 When Paul McCartney and Kanye West first collaborated together on the rapper's 2014 song, "Only One," the two instantly clicked. Not only did they bond over their mutual love for music, but things between the artists got quite personal when they connected over the losses of their mothers.
It might not seem like it, but West and McCartney have a lot more in common than anyone would have expected.
Not only are they both the most notable musicians in the music industry, McCartney and West know the unique grief of losing their mothers, which is something they bonded over while collaborating on Kanye's single "Only One," in 2014.
West lost his mother in 2007 after she suffered complications following a plastic surgery procedure. McCartney's mother, Mary, passed away from an embolism following tumor-removal surgery when the singer was in his teens.
Source: cheatsheet.com