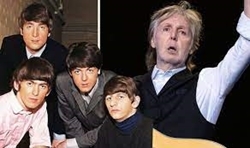 Sir Paul McCartney wrote reams of music and lyrics for The Beatles for the better part of 20 years. Along with his best friend and writing partner, John Lennon, he started the Lennon-McCartney Songwriting Partnership, a collective that was responsible for penning dozens of tracks.
But in 1970 The Beatles announced they were splitting up after the release of their 13th album, Let It Be.
In the same year, McCartney took his creativity into his own hands.
In April 1970 the former Fab Four star released his first solo album: McCartney.
The record was a labour of love for the star, who wrote and recorded every instrument on it.
Looking back at McCartney, the star has commented on how it felt to do his own thing after The Beatles came to an end.
He said via his Twitter account: "I like its bare bones, I mean, talk about honest. You couldn't get more honest than plugging right in the back of the machine, and if the snare was too loud you moved the mic away from it a bit."
Source: Callum Crumlish/express.co.uk