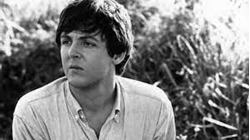 Paul McCartney is surprised that not everyone knows the backstory of The Beatles' "Yesterday." "Yesterday" was released as a single many years apart in the United States and the United Kingdom.
The tune became far more popular in the U.S. than it was in the U.K.
The Beatles' "Yesterday" has an interesting backstory. Paul McCartney said he's surprised he's had to tell that story repeatedly. In addition, he said he's had to tell one anecdote about John Lennon again and again.In a 2021 Rolling Stone article, Paul and producer Rick Rubin interviewed each other. Rubin is a major producer known for working with artists such as Aerosmith, the Beastie Boys, Kanye West, Lana Del Rey, Lady Gaga, and numerous others. In the interview, Rubin discussed watching the documentary The Beatles Anthology.
Rubin said it was incredible how much footage of The Beatles existed, especially since the band predated camera phones. "There's so much stuff out there," Paul said. "But I think that's one of the reasons The Beatles keep going — because you keep discovering another little thing."
Source: Matthew Trzcinski/cheatsheet.com