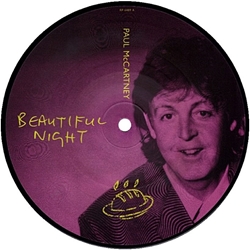 Mention a Paul McCartney song with drums and vocals by Ringo Starr, and an orchestral arrangement by George Martin, and you might think we've landed at some unspecified moment in Beatles history. In fact, we're talking about an underrated moment in Paul's solo catalogue, and the elegant ballad 'Beautiful Night,' which made its UK top 40 debut on the chart of 27 December 1997.
The track was the third and final single from McCartney's Flaming Pie album, which had already yielded the 'Young Boy' and 'This World Tonight' releases. 'Beautiful Night' stands as something of a hidden gem in Paul's solo career, with its pretty melody and evocative lyrics such as "I won't need a castle, they've got castles in Versailles…and I'm still stranded, wondering why."
The song had been around for a decade, with a version cut in New York in 1986 but shelved.
Source: Paul Sexton/udiscovermusic.com