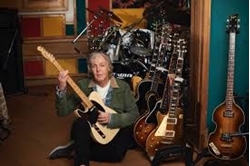 Paul McCartney joins Nile Rodgers for a fascinating masterclass discussion on songwriting in a new episode of Apple Music 1's Deep Hidden Meaning Radio with Nile Rodgers.
The 30-minute plus conversation is available now on-demand for Apple Music subscribers. American Songwriter is premiering exclusive excerpts here today. Tune in and listen to the conversation in full for free this Saturday (Jan. 9) at 8am LA / 11am NY / 4pm London at https://music.apple.com/us/curator/1481637462
Situated in his home recording studio where he recorded his latest album McCartney III, the former Beatle takes listeners back into the songwriter's room with John Lennon as the two wrote "A Day In The Life" before bringing it to the recording studio with George Martin.
Source: americansongwriter.com