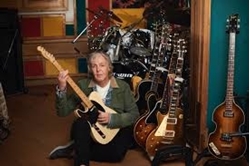 Paul McCartney joins Nile Rodgers for a fascinating masterclass discussion on songwriting in a new episode of Apple Music 1's Deep Hidden Meaning Radio with Nile Rodgers.
Situated in his home recording studio where he recorded his latest album McCartney III, the former Beatle takes listeners back into the songwriter's room with John Lennon as the two wrote "A Day In The Life" before bringing it to the recording studio with George Martin.
He also recalls how he wrote the Wings hit "Jet," his thoughts on how people interpret his songs, and a prized possession of his- the original double bass used by Bill Black on early Elvis Presley recordings. Rodgers in turn reveals how one of Paul's songs altered the course of his life and the life-changing moment many teenagers experienced in February 1964- seeing the Beatles on The Ed Sullivan Show.
Source: americansongwriter.com