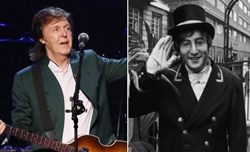 In a recent newsletter published on Paulmccartney.com, The Beatles bassist Paul McCartney has revealed the song which John Lennon wrote during a crisis.
Paul said that 'John started writing 'Help!' during a crisis at that time in his life'. You can read the entire statement below.
Interviewer asked:
"Do you have a song that you put on if you're ever having a hard time or a bad day, and it instantly makes you feel better?"
Paul responded:
"There's a track on Egypt Station that came out of a hard time I think would fit the bill now! Alternatively, it would be old music like 'All Shook Up' or 'Don't Be Cruel' by Elvis Presley. Or 'What'd I Say' by Ray Charles.
Source: Feyyaz Ustaer/metalheadzone.com