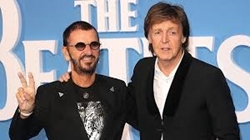 Each year, a few days before the Grammy Awards, the Recording Academy's MusiCares charity hosts a star-studded, invitation-only benefit gala saluting its "Person of the Year." However, because of the COVID-19 pandemic, this year's gala is being replaced by a virtual benefit called "Music on a Mission," which will be a ticketed event that everyone can enjoy.
The fundraiser will be held Friday, March 12, two days before the 2021 ceremony, and will feature special appearances by Paul McCartney , Ringo Starr , Mick Fleetwood , Lionel Richie , Carole King and other artists, as well as live and archival performances.
Bruce Springsteen , Stevie Nicks and the late Tom Petty are among the stars that will be featured in archival performance clips, while artists including John Legend , HAIM and H.E.R. will deliver new performances.
Source: 933thedrive.com