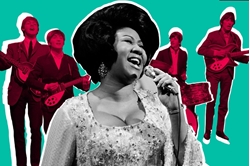 The two surviving Beatles paid tribute to Aretha Franklin today following the news of the Queen of Soul's death. Paul McCartney and Ringo Starr issued separate statements, each praising the artist for her musical impact.
"Let's all take a moment to give thanks for the beautiful life of Aretha Franklin, the Queen of our souls, who inspired us all for many, many years," McCartney wrote, paired with a photo that was shot looking up at her as if in awe. "She will be missed but the memory of her greatness as a musician and a fine human being will live with us forever. Love Paul."
Starr simply wrote, "God bless Aretha Franklin the queen of soul and peace and love to her family." He accompanied the note with emojis for music, peace and love.
Source: Kory Grow/rollingstone.com