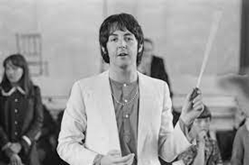 Paul McCartney said his single favorite aspect of The Beatles' "Lady Madonna" is the dark recurring phrase, "See how they run." The line is more complex than anyone can imagine and comes from a subconscious place inside Paul. The singer-songwriter has always known how to juxtapose light and dark, good and bad, in his songs with minimal effort.
Paul McCartney in the recording studio in 1968.
In The Lyrics: 1956 to the Present, Paul wrote that his mother's death is something he never got over. He was only fourteen when Mary McCartney died of breast cancer. So, he knows that a song that depicts a "very present, nurturing mother" has got to be influenced by a similar sense of loss, just as "Lady Madonna" does.
"The question about how Lady Madonna manages 'to feed the rest' is particularly poignant to me, since you don't have to be a psychoanalyst to figure out that I myself was one of 'the rest,'" Paul wrote. He believes he must have felt left out, needing a mother's love, at the time.
Source: Hannah Wigandt/cheatsheet.com