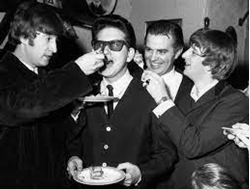 Paul McCartney said The Beatles watched Roy Orbison write "Oh, Pretty Woman." The song's co-writer had a different story to tell.
The track reached No. 1 on the Billboard Hot 100.
Paul McCartney said Roy Orbison's "Oh, Pretty Woman" came together while The Beatles watched. However, one of the song's co-writers had a story that completely contradicts Paul's. Notably, the song had an impact on cinema.
In the 1997 book Paul McCartney: Many Years From Now, Paul discussed going on tour during The Beatles' early days. "We were starting to meet other musicians then and we'd start to see other people writing," he recalled.
"After that, on another tour bus with Roy Orbison, we saw Roy sitting in the back of the bus, writing 'Pretty Woman,'" he said. "It was lovely. We could trade off with each other. This was our real start."
Source: Matthew Trzcinski/cheatsheet.com