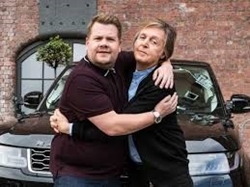 Paul McCartney revealed in a recent interview with British GQ that he hadn't returned to his childhood home in Liverpool until James Corden convinced him to for a "Carpool Karaoke" segment.
The former Beatle appeared on a 2018 episode of Corden's "The Late Late Show," and told GQ that filming with Corden in his former hometown, where he lived for the first 20 years of his life, was "really great."
"I'd never been inside my old house. I hadn't been back since I left it," McCartney explained, adding, "James suggested doing it."
"I was always a little apprehensive about going back. I didn't know if it was going to be nice or whether I would get bad memories or whatever, although I don't really know what I was worried about," the musician continued.
Source: Libby Torres /insider.com