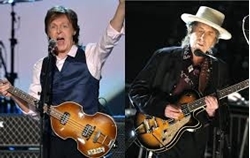 Sir Paul McCartney has said he sometimes wishes he could "be more like Bob Dylan".
The acclaimed Beatles musician said the American singer-songwriter's latest album, Rough And Rowdy Ways, is "really good".
The 78-year-old told Uncut magazine: "I always like what he does. Sometimes I wish I was a bit more like Bob. He's legendary … and doesn't give a shit! But I'm not like that.
"His new album? I thought it was really good. He writes really well. I love his singing – he came through the standards albums like a total crooner. But, yeah, I like his new stuff.
"People ask me who I'm a fan of and Bob Dylan and Neil Young always make the list."
Dylan scored his ninth number one album with Rough And Rowdy Ways – breaking two chart records in the process.
Source: Kerri-Ann Roper/uk.news.yahoo.com