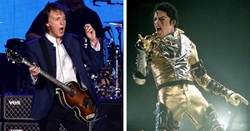 McCartney also admitted that he sympathized with all the people who are having trouble with Jackson's music after claims of child sexual abuse were leveled at the late superstar
Sir Paul McCartney was reportedly shocked on seeing his close pal Michael Jackson's dark side in the controversial HBO documentary, 'Leaving Neverland', but he says that he will still remember their good times. The Beatles legend, who worked with the late King of Pop in the 1980s, said he never knew about the singer's secret private life.
"I think it's sad," McCartney said while in conversation with Radio Futuro in Chile, where he has been performing. "Obviously Michael was a great singer, a great artiste, and a great dancer. For years we've loved that. Nobody knew about the other side that's shown in that movie."
Source: Vidisha Joshi/meaww.com