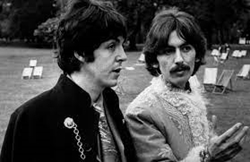 PAUL MCCARTNEY and The Beatles' producer, George Martin, grew frustrated with George Harrison during the recording of one of his songs from Revolver. Eventually, the Hey Jude singer stepped in to play a solo the Quiet Beatle was struggling with. And he "wasn't very happy" about it.
In the mid-1960s The Beatles were releasing albums thick and fast. By 1966 the band were already on their seventh studio album, Revolver. Although it included such iconic and memorable songs as Eleanor Rigby, Yellow Submarine and Good Day Sunshine, the band decided to give the opening track to George Harrison.
But it wasn't a perfect process. Eventually, Paul McCartney - who is playing Glastonbury Festival today - had to step in.
Source: Callum Crumlish/express.co.uk