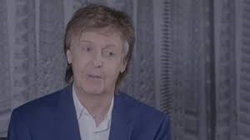 In an exclusive conversation, the music legend speaks about his passions and how everyone can make a difference.
Paul McCartney's campaign for people to reduce their meat consumption is a deeply personal one.
McCartney, a global icon and former Beatle who is often known more for his music than his activism, is a vegetarian himself and discussed his personal choices and passions in an interview with Susan Goldberg, editor-in-chief of National Geographic magazine.
"I support a lot of causes, but this particular one is personal for me because it is how I live," said McCartney. "Through this campaign, I can say to people, 'Just try it' and show that it can actually be quite fun when you look at what you do, what you eat, how you live and think, 'is this what I'm gonna do for the rest of my life or would it be interesting to try making a change?'"
Source: news.nationalgeographic.com