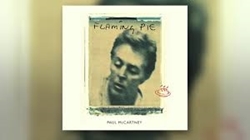 Paul McCartney is one of pop's fountainheads, one of the defining figures in the development of the artform.
A songwriter with no shortage of magic in the vaults, he recently decided to turn his sights to 1997 album 'Flaming Pie'.
Paul McCartney's tenth solo album, it was an international success, a record that ranks amongst the highest echelons of his storied discography.
Later this month a lavish re-issue hits the shelves, featuring rarities and unheard gems galore.
We've obtained this early, raw version of album cut 'Somedays' and it's a gorgeous listen, little more than guitar and that instantly recognisable voice.
A beautifully affecting piece of music, this is the original recording, before George Martin developing the finished song's distinctive arrangement.
You can download it on Paul McCartney's official website HERE and check it out below.
Source: Robin Murray/clashmusic.com