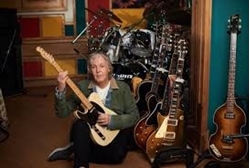 With "McCartney III," the Cute Beatle makes a spectacular return to form, produces one of his most compelling albums in decades, and reminds us that at age 78, his musical chops are as exquisite and profound as virtually anyone's. Ever.
Working at his Sussex studio, Paul McCartney recorded nearly the entirety of "McCartney III" during the pandemic. A one-man band production in the spirit of his eponymous debut solo album in 1970, "McCartney III" arrives more than 40 years after the release of its predecessor, "McCartney II," in 1980. That summer, the album topped the UK charts and yielded a chart-topping single Stateside in "Coming Up."
In its own fashion, "McCartney III" functions as the logical extension of its precursors, each acting as lodestones of sorts for signal moments across his long career. As with the first two LPs, McCartney took a carefree, homespun approach to his efforts, allowing his imagination to guide the way. As he remarked in the album's press notes about his process during its production, "Each day, I'd start recording with the instrument I wrote the song on and then gradually layer it all up; it was a lot of fun. It was about making music for yourself rather than making music that has to do a job.
Source: salon.com