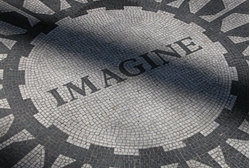 The Imagine mosiac at Strawberry Field in Central Park dedicated to the late John Lennon, who lived across the street in the Dakota at Central Park West and 72nd Street in New York City.
Some 20 students enrolled in the Penn State Berks Beatles honors course turned into day trippers on Sunday, April 8, traveling to New York City for a walking tour of Fab Four historic points "here, there and everywhere"; a presentation by one of the world's leading Beatles experts and enthusiasts; and a visit to the New York Public Library's current 1960s U.S. history and culture exhibit.
Taught since 2016 by Thomas Lynn, associate professor of English, the course INART 205: Introducing the Beatles offers undergraduates a detailed overview of the music and lives of John Lennon, Paul McCartney, George Harrison and Ringo Starr, and their impact on the world.
Source: Alan Shirk/news.psu.edu