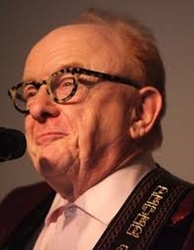 Around this time of year, it's not uncommon to talk about people "of a certain age" having been around long enough not just to read about history, but to experience it.
Peter Asher has seen — has lived — that scope of history in the music world. Not as a witness, but as a person who lived it. And those were the stories he shared with a fascinated, delighted and sold-out Nighttown Monday night, and will again in another sold-out gig at the Cleveland Heights club on Tuesday night.
But "Peter Asher: A Musical Memoir to the '60s and Beyond" was more than just a PowerPoint recitation of known history, replete with family photos, publicity stills and amazing audio and video clips. It was two-and-a-half hours of tales and anecdotes, interspersed with a little music and a lot of laughs, that put a whole era in perspective for those of us "of a certain age." And maybe for those who've just read about it.
Source: cleveland.com