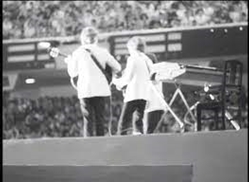 Rare censored footage of the tight security put in place by Tokyo police when the Beatles came to Japan to perform in 1966 has finally reached the public domain.
The nearly 36-minute black and white silent movie shot by the Metropolitan Police Department documents a level of security normally accorded to state guests.
The group was in Japan from June 29 to July 3. It was their first and last tour in Japan as a band.
It shows police meetings to discuss security measures and officers at checkpoints set up around Haneda Airport in the capital for the arrival of the four-member group.
The footage also captures a vehicle displaying a banner that read "Demoralizing Beatles must be driven out" heading in the direction of the cameraman.
Source: asahi.com