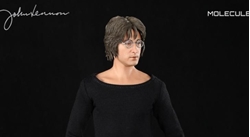 Usually we receive realistic action figures from blockbuster movies mainly from comic book and the Star Wars franchises.
Well a new toy has been revealed that will make fans of The Beatles happy because it's a figure based on the likeness of the late John Lennon.
Molecule 8 issued out a new press release saying that this new 1/6th scale (12 inches) John Lennon toy will be available from April 2018. The list of features have been posted below as seen on the official website.
Source: By Damian Seeto/emptylighthouse.com