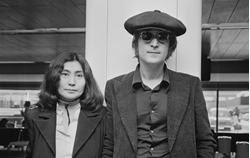 The passionate letter, which was written in 1971, is currently up for auction in Boston
A letter written by John Lennon in 1971, in which he details his anger with his record label and the music industry at large over the 'Two Virgins' album he released with Yoko Ono, will be sold at an auction in the US tomorrow.
The letter has recently resurfaced and been put up for auction, with the sale – which is being conducted by RR Auctions in Boston, Massachusetts – expected to reach a price of £15,000 when bidding ends tomorrow (March 14).
Addressed to "Martin George of Rock Ink", the auction house cites "noted Beatles expert" Perry Cox in affirming that the letter was sent to the late Beatles producer George Martin. However, author Mark Lewisohn has subsequently told The Times that he believes that Lennon was actually responding to the journalist Martin George, who wrote for "a magazine or a weekly underground newspaper called Ink".
Source: Sam Moore /nme.com