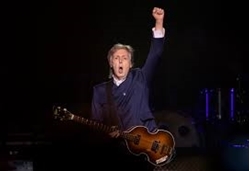 Never doubt Paul McCartney.
After the COVID-19 pandemic forced the cancellation of his shows in 2020, the first-tier Rock and Roll Hall of Famer promised fans that he'd get back to touring at some point.
He made good on his word late last month with the launch of the Got Back Tour, which touched down at the Oakland Arena on Friday, May 6.
"Good evening, Oakland," the 79-year-old superstar said to the capacity crowd. "We are very happy to be back here after a long interlude."
The Got Back Tour — which, yes, does indeed sound like the title of a Sir Mix-a-Lot road show — includes a second date on Sunday at Oakland Arena. So, if there are any moms in your life who are big Beatles fans, this could be just the right ticket for Mother's Day. (See apeconcerts.com for ticket details.)
Source: Jim Harrington/mercurynews.com