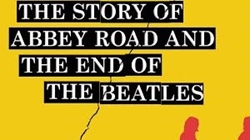 Any Beatles fan looking for a way to spend their Christmas cash might consider buying the latest book about the band.
Kenneth Womack's "Solid State: The Story of 'Abbey Road' and the End of the Beatles" puts the Fab Four's recording of their last album in 1969 in context of the social atmosphere and advanced technology at their disposal. The electronic talk may be a little much for some readers, but it does indicate musical growth.
Remember, "Let it Be" was recorded before "Abbey Road" but released after. Of course, the Beatles' breakup actually began before the band reconvened to make their last record.
Still, they rallied together to create an album with new sounds, notably George Harrison's fascination with the Moog synthesizer, Geoff Emerick's engineering, which complimented the band's cohesiveness, and George Martin's arrangements. The overdubs on the song "Because," which was influenced by a Beethoven piano sonata, resulted in a nine-voice recording.
Source: Robert Hite/thesunflower.com