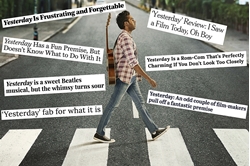 "Yesterday," directed by Danny Boyle, brings one of the most irresistible musical forces to film: The Beatles.
No, The Beatles aren't actually in the movie, but the band's music is heavily incorporated. The plot revolves around a worldwide power outage causing the entire world to forget The Beatles
Only Jack Malik, played by Himesh Patel, remembers The Beatles. Malik, an unsuccessful singer-songwriter, takes many of The Beatles' songs as his own and becomes a huge star.
Played wonderfully by Patel, Malik comes across as a loveable friend with the best of intentions at heart.
Another fabulous casting decision was Kate McKinnon as Malik's new manager, Debra Hammer. McKinnon's straightforward, insensitive jokes lend her usual "Saturday Night Live" charm to the film.
Source: Olivia Elston/idsnews.com