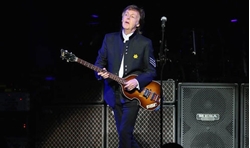 Paul McCartney has topped the 30th annual Sunday Times' Rich List
Topping the 30th annual Sunday Times' Rich List in the UK music industry, the former Beatle has now seen his wealth rise by a staggering 925 per cent since the list began back in 1989.
The new figure makes him the richest musician in the history of the Rich List, pushing ever closer to the £1billion mark, thanks to the never-ending royalty stream from The Beatles back catalogue, still strong nearly 50 years after the group disbanded.
But the valuation of his fortune has further been bolstered as it also includes the assets of his wife Nancy Shevell, 58.
She is heiress to the huge American trucking concern, New England Motor Freight, which has annual sales of around £330 million.
Sir Paul, 75, who collected his Companion of Honour medal at Buckingham Palace last week for his contribution to music in the UK and worldwide, has further benefited from a 2015 deal that allowed The Beatles' 13 albums to be available on streaming services.
Source: Mark Reynolds/express.co.uk