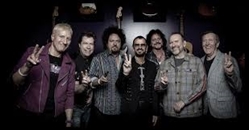 "This is very difficult for me," said Starr in a statement on his website in March, "in 30 years I think I've only missed 2 or 3 gigs nevermind a whole tour. But this is how things are for all of us now, I have to stay in just like you have to stay in, and we all know it's the peace and loving thing we do for each other. So we have moved the Spring tour to 2021. My fans know I love them, and I love to play for them and I can't wait to see you all as soon as possible. In the meantime stay safe. Peace and Love to you all."
The tour is set to kick off in Asbury Park, N.J. on June 1 and travel through the United States until June 27, when the tour ends in Clearwater, Fla.. As of now, there is one stop scheduled in Mexico on October 20.
Check out the list below to see if the "Photograph" singer is coming to your area.