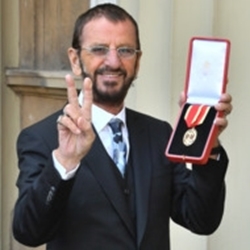 In his truly epic Vulture interview with David Marchese last month, legendary producer Quincy Jones reminisced about his experience with "the worst musicians in the world," the Beatles. As for his thoughts on the group's drummer, Ringo Starr, Jones opined, "Don't even talk about it." Luckily everyone else, including Buckingham Palace, disagreed.
This week, Starr was finally knighted by Prince William under his birth name Richard Starkey, 21 years after Paul McCartney received the same honor. The Beatle was also made a Member of the Most Excellent Order of the British Empire way back in 1965 along with his bandmates. If you'll recall, Quincy Jones later apologized for saying a number of "silly things" off the cuff, which is probably why he was the first in line to let Ringo know how much he really deserved that honor, and more. Jones tweeted the producer on Tuesday evening, "Congratulations to my dear friend & brother @ringostarrmusic, Sir Richard 'Ringo' Starkey! You deserve this & every other honor that comes your way."

Who's Laughing Now, Quincy Jones? Ringo Starr Gets Knighted!