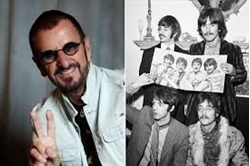 Sir Ringo Starr had no plans to slow down before the coronavirus pandemic intervened. His youthful appearance and fizzing energy bely his 80 years – and had it not been for Covid-19, the man born Richard Starkey in a working-class area of Liverpool would have been on the road in 2020.
But it turns out even a former Beatle cannot escape the consequences of a global health crisis. As it stands, Sir Ringo's All Starr Band is set to return to the stage in June, though he admits the plans are far from set in stone due to the continued disruption caused by the virus.
The pause in performing gave him a chance to look back on three decades with the group, putting together the book Ringo Rocks: 30 Years Of The All Starrs. Reflecting proved to be an emotional experience, Starr explains from his home in Los Angeles.
"The first band was like everything else – it's brand new. And, 'Oh, wow, it's working'. And actually, people are coming to see it. That's the good news. And I had a lot of great players." Musicians who have been part of the ever-evolving line-up include Eagles guitarist Joe Walsh, rocker Peter Frampton, New Orleans musician Dr. John and R&B star Billy Preston, among others.
Source: rte.ie