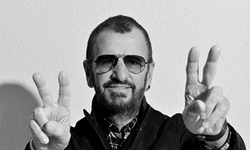 Today marks the 50th anniversary of the Beatles landmark release 'The White Album'. The 30-track double album that upended the music world has returned to the charts once again thanks to the remastering by Giles Martin, son of the legendary Beatles' producer George Martin.
With new mixes in stereo and 5.1 surround sound, and loads of previously unreleased extras, fans are getting to hear the Fab Four in a whole new light, including drummer Ringo Starr on a blistering 13-minute long 'Helter Skelter'.
"It's always been one of my favourite albums," Ringo tells uDiscover Music. "There's a lot of stuff that nobody's ever heard and George's house sessions. But the actual remastering (because of the technology we have today) is much clearer, and the drums are a little higher, so I love it."
But Ringo has even more to celebrate. The industrious artist has a new book on the way, a collection of photos from his life and travels titled Another Day In The Life, set for release in April 2019. Spanning from his early Beatles days to his current world tours, Starr has always seen life through a lens:
"Wherever I am, I always take pictures and I'm nearly ready for Another, Another Day In The Life," he jokes.
Source: Laura Stavropoulos/udiscovermusic.com