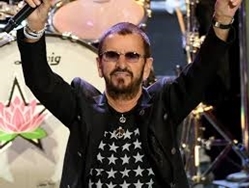 A few years after their breakup, The Beatles were offered a ridiculous sum of money for a one-time reunion concert, but turned it town because the opening act would have featured a shark.
That's what Ringo Starr is revealing in a new interview with the Sunday Mirror, discussing a "crazy offer" he and the other members of the Fab Four received in 1976.
According to a report from People at the time, the four were offered $50 million by impresario Bill Sargent, a pioneer in pay-per-view events, to reunite for a concert.
RELATED: 'The Beatles: Get Back' Documentary Restores Iconic Rooftop Concert
"We did talk one time. There was a crazy offer out there," Starr explained.
According to Starr, the group ultimately decided against it because of the opening act that Sargent had in mind: a man fighting a great white shark.
Source: Brent Furdyk/etcanada.com