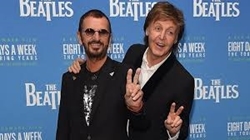 "We're still pals," Ringo notes. "We don't hang out with each other a lot. But if we're in the same country, and if we're in the same town, we always have a dinner, and we say hi or he comes over here or I go over to his house."
Starr also says he enjoys getting the chance to perform live with McCartney occasionally.
"I love that, getting up with him," says the 80-year-old drummer. "We did it at the O2 [arena] in England [in 2018]. And then he called me [in 2019] and he said, 'I'm doing Dodger Stadium, if you want to do a few numbers.' 'Sure.' So he picked three numbers, and I got up and went down there."
Adds Ringo, "[I]t's magic for the audience as well as us. I love playing with him. The audience is like, 'Oh, there's two of them! Wow.' It lifts everything, in a joyous way."
Source: wxhc.com