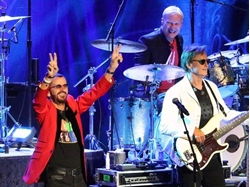 Fans are flocking to the Abraham Chavez Theater to see Ringo Starr and His All-Star Band.
A former member of The Beatles, Ringo is known for providing lead vocals in hits like "Yellow Submarine" and "Little Help From My Friends".
He last performed in El Paso in 2003. George Reynoso, owner of All That Music & Video, says none of the other band members have ever performed in El Paso.
"It's huge, especially if you're into The Beatles and Beatles music," Reynoso said.
Reynoso describes The Beatles as legendary. He says Ringo wasn't taken very seriously, after joining the band in 1962, replacing Pete Best.
"But in time as The Beatles gained credibility so did Ringo as the world's most very very highly respected musician drummer," Reynoso said.
Ringo performed in Las Vegas Sunday night. He's expected to sing his classics, along with songs from his solo records in El Paso Monday.
The show starts at 8 p.m. Doors open at 7 p.m.
Officials at the theater say they're expecting the show to be a sell-out.