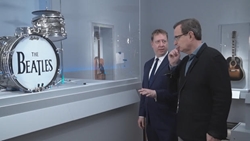 New York's Metropolitan Museum of Art is filled with masterpieces by giants like Picasso and Rembrandt. Next week, Don Felder's Gibson double-necked guitar will join them. It's the instrument Felder has used for 40 years to play "Hotel California," the masterpiece he co-wrote for The Eagles.
And it will be shown along with Keith Moon's custom drum set, Jerry Lee Lewis' baby grand piano, and John Lennon's 12-string Rickenbacker, at the Met's new exhibition, "Play It Loud." It's the first time an art museum has honored the instruments of rock 'n' roll
Jayson Kerr Dobney, curator of the Met's musical instrument department, showed correspondent Anthony Mason the guitar that Chuck Berry used to record "Johnny B. Goode," which he called "first great rock anthem about a guitar player."
"He's still got the traveling tags on the case," said Mason.
"It's like as pure as you can get."
Source: cbsnews.com