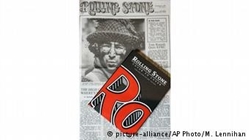 It's been 50 years since the first issue of Rolling Stone was published in California. The legendary magazine captured the spirit of the time with its unique brand of music journalism, says founding editor Michael Lydon.
When the first issue of Rolling Stone hit the news stands on November 9, 1967 — complete with a photograph of John Lennon on its front cover — nobody could've known that it would still be going strong five decades later.
"Rolling Stone found this audience instantly," remembers the publication's founding managing editor, Michael Lydon. "Immediately we were getting calls. Eric Clapton called up, the Warner Brothers from LA called up."
Source: Deutsche Welle (www.dw.com)