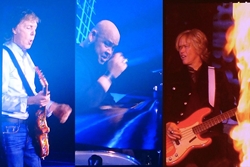 We were genuinely excited as we made our way into Tokyo Dome, a 55,000-seat baseball stadium, to see Paul McCartney's "One on One" tour. That feeling waned a bit as a helpful Japanese ticket attendant led us to our seats… up higher and higher… past the Sherpas and centerfield bleachers… to a pair of seats resting three rows from the top. Oh, well. At least we were facing center stage. And we were there to see Paul McCartney
. An actual Beatle! A bucket list perennial, now safely checked off. Buying tickets from Viagogo — a reliable online vendor — doesn't guarantee you the best choice of seats, and we just snagged the first ones we found and could afford (somewhere in the neighborhood of $140). We could only drool and imagine how much the front-section seats fetched.
A shuffle of remixed Beatles/Wings/Macca songs played over the loudspeakers before the show started, and it was an opportunity to watch the baseball stadium fill up, leaving only a handful of empty seats. There for a three-night stand, McCartney, at age 74, shows no signs of letting up. When he bounded onstage, amid the opening guitar chime of A Hard Day's Night, there was that thrill that usually only occurs when the Star Wars music and opening credits appear on a movie screen. The Beatles "Force" remains strong in fans, four and a half decades since band members parted ways. Beatle fans never really die, even if they do apparently age.
By: Scott Garceau
Source: Philstar