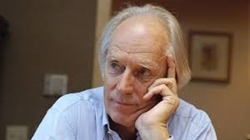 The Beatles had a fifth unofficial member in the form of their producer, Sir George Martin. He was more than a producer as he served as a friend and a father figure to the four members.
We often celebrate and note the musical contributions made by The Beatles, but Martin was the oil that kept their machine going. To honor him we look at 11 facts about the producer whom George Harrison described as "always there for us to interpret our strangeness."
1. On September 4, 1962, John Lennon and Paul McCartney first played "Please Please Me" for Martin during their second EMI recording session. The song was originally a slow tempo until the producer suggested they speed it up and it became a hit.
MARTIN'S CONTRIBUTIONS IN 1965
2. In 1965, McCartney finished writing "Yesterday" but the band couldn't decide on the instruments that should go with the song. Martin came to the rescue when he suggested McCartney plays an acoustic guitar and sing the track by himself.
Source: Junie Sihlangu/news.amomama.com