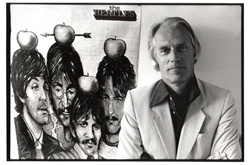 Legendary Beatles producer Sir George Martin will be inducted into the Music Business Hall of Fame during the 61st annual Music Business Association (Music Biz) conference on May 7 in Nashville. The late luminary, who produced a record 23 No. 1 hits on the Hot 100, will be inducted by his son, Giles Martin.
Music Biz launched its Hall of Fame last year, inducting Tower Records founder Russ Solomon. It aims to celebrate the achievements of industry executives, companies, media, venues, institutions and others who have made significant contributions to the music business.
In addition to Martin, this year's Hall ceremony will recognize major labels Atlantic Records and Capitol Records; indie label Sub Pop; industry execs Ahmet Ertegun, Herb Abramson and Miriam Abramson; music industry landmarks the Apollo Theatre, CBGB, Hitsville U.S.A., Sun Studio, and the Troubadour; and Rolling Stone magazine.
Source: Billboard Staff/billboard.com