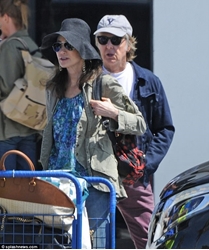 They have been madly in love for more than a decade.
And Paul McCartney, 75, is clearly keeping the romance alive with Nancy Shevel, 58, as they arrived in Ibiza for an intimate holiday away, on Friday.
Dressed in effortlessly chic ensembles, the pair made a low-key exit out of the airport while they collected their luggage.
Going for a mismatched look, the Beatles star paired red jeans with a navy denim jacket and a white top.
Keeping his greying locks hidden underneath a baseball cap, the rocker shielded his eyes with jet-black shades.
Meanwhile, Nancy looked chic as she stepped out in a khaki jacket and denim jeans, and she added a glamorous touch to her ensemble with a blue floral top.
The wife of the musician displayed her natural age-defying beauty as she left her brunette tresses loose and shielded her eyes with sunglasses.
Nancy accessorised with a stylish black sun hat, while she added a touch of glitter to her ensemble with a pair of dangling earrings.
The Paul and Nancy love story goes back to November 2007 when the lovebirds first started dating.
Source: Daily Mail