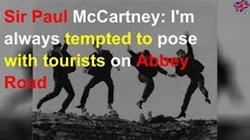 Sir Paul McCartney has revealed he is often tempted to "join in" with tourists posing on the zebra crossing made famous by The Beatles' Abbey Road album.
The 77-year-old was this morning reflecting on the 50-year anniversary of the band's seventh album on Radio 2, which the musician said he had "beautiful memories" of.
He added: "Nowadays I drive past but you can't get past — there's people on it. I've often thought of just jumping out and joining in."
He also admitted he did once stop there after a party.
"I was coming back from a Halloween party and the crossing was empty and I had a werewolf mask on so I just went across and did a pose."
The BBC has set up a pop-up radio station to mark the anniversary, called Radio 2 Beatles.
Source: Lizzie Edmonds and Tobi Akingbade/standard.co.uk