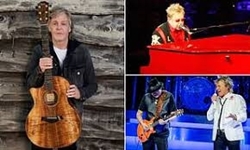 Sir Elton John's concert residencies in Las Vegas were, in his own words, a "spectacular and successful" chapter in his career. Just don't expect Sir Paul McCartney to follow suit.
In remarks unlikely to keep him on Sir Elton's Christmas card list, Sir Paul has described Las Vegas as an "elephants' graveyard" where the stars "go to die".
The former Beatle was asked by an interviewer if he had "ever considered doing a residency in Vegas, like Elton John, or doing what Bruce Springsteen did on Broadway?" Springsteen performed five nights a week for more than a year at a theatre in New York City from 2017-18, while Sir Elton played 450 shows over two residencies at Caesars Palace to 1.8 million fans.
"Some people would like me to do it, as they say I've got plenty of stories and plenty of songs, but one of the things that's holding me back at the moment is that Bruce has just done it, you know?
Source: Anita Singh/telegraph.co.uk