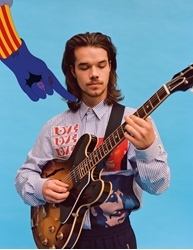 For the first time, Stella McCartney, Paul McCartney's daughter, has released a collection inspired by The Beatles, and by the psychedelic universe created in the "Yellow Submarine". Find out everything below.
Yellow Submarine was one of the most popular animated films of the 1970s. It was a pop culture gem, and released on July 17, 1968 to a community of eager fans. Featuring The Beatles bandmates as the stars, the beloved film was recently re-screened for its 50th anniversary. Today, the film continues to inspire, as Stella McCartney has just released a new collection inspired by the film, and by the band.
"I recently went to a screening with family and friends for the digital relaunch of Yellow Submarine, I hadn't seen it since I was young, and honestly it blew my mind. It affected me in a way I just wasn't expecting. Especially this idea of connecting people and bringing people together — politically this message has never been more relevant. So, I came out and I was like 'I have to do something."
Source: Agathe Duval/vogue.fr