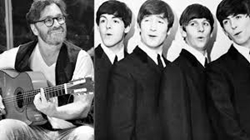 During an appearance on Scars & Guitars, fusion guitar champion Al Di Meola (Return to Forever, solo) talked about his new The Beatles tribute album "Across the Universe."
The record was released on March 13 via earMusic, featuring a collection of 14 tracks. You can stream it in full in the embedded player below. Discussing what The Beatles meant to him, Al commented (transcribed by UG):
"The Beatles were highly inspirational to me, as a lot of the English music was. But they set the bar. Everybody was trying to make music, not to better them, but The Beatles - they set the benchmark.
"Then when they went off on their solo things, I definitely lost interest in their solo stuff, which led me onto the path that brought me into whatever prominence they still got because I went down the road into jazz-rock, fusion, and everything.
Source: ultimate-guitar.com/jomatami