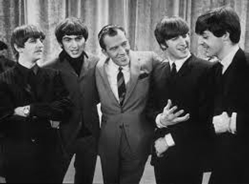 I debated if I should be a bit more contemporary when I chose my first pop culture topic. But, as they say, you must first know your past before you can understand your future.
There was never a band like The Beatles when they swept into America in 1964. Four young men named John Lennon, Paul McCartney, George Harrison and Ringo Starr changed the world.
And, really, there would never be one like them again. Because once Beatlemania hit, nothing really could ever be as frenzied. Their fans were so loud during concerts they said they actually got worse as a band because they couldn't hear themselves perform. It's the main reason they stopped touring and stopped performing live.
September marked 50 years of when The Beatles released "Abbey Road" and after all these years the album has managed to reach the Top 3 in the Billboard Chart of Top 200 in the U.S., and hit No. 1 again in the U.K.
Source: Crystal Schelle /fredericknewspost.com